Wolfenstein: Youngblood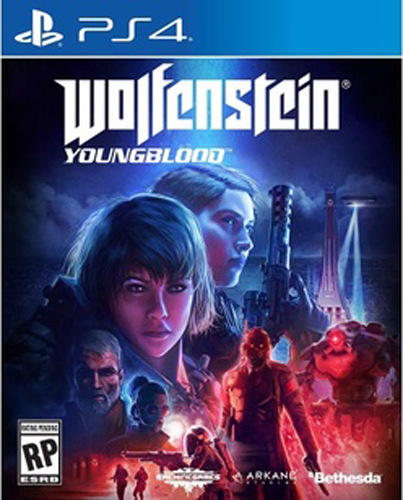 Playstation 4
Condition: New
Release Date: July 26, 2019
G-O Number: 0030-PS4-N
UPC Number: 093155174016
Publisher: Bethesda
Developer: MachineGames, Arkane Studios
ESRB Rating
Blood and Gore, Intense Violence, Strong Language
This is a first-person shooter in which players follow the story of the twin daughters of BJ Blazkowicz, the central character of previous Wolfenstein games. Players can engage in combat missions against Nazi enemies while following the storyline; characters use pistols, rifles, machine guns, and futuristic weapons to kill soldiers and mech characters. Some weapons allow players to blow off enemies' limbs/heads, resulting in large blood-splatter effects and chunks of flesh. A few cutscenes depict further instances of intense violence: a soldier's head exploding after being shot; a character crushed to death and partially decapitated after an explosion; a character stabbed in the eye. The words "f**k" and "sh*t" appear in the dialogue.
Description
Wolfenstein: Youngblood is a brand-new co-op experience from MachineGames, the award-winning studio that developed the critically acclaimed Wolfenstein II: The New Colossus.
Set in 1980, 19 years after BJ Blazkowicz ignited the second American Revolution, Wolfenstein: Youngblood introduces the next Blazkowicz generation to the fight against the Nazis. Play as one of BJs twin daughters, Jess and Soph, as you search for your missing father in Nazi-occupied Paris.
Features
MURDER, THEY WROTE - Team up with a friend or play alone with an AI companion in the first modern co-op Wolfenstein adventure.
ESCAPE FROM PARIS - Wolfenstein: Youngblood features the most open-ended Wolfenstein experience to date. From a new base of operations located deep in the heart of the Paris catacombs, plan how and when to attack and dismantle the Nazi regime
SWEATIN' THE 80S - The wonder years, these are not. Featuring harrowing takes on iconic Parisian landmarks to graffiti-tagged streets, leather-clad Nazis, and an all-new soundtrack inspired by the synth heavy tones of classic 80s action films.
LOCK AND LOAD - Wield the latest advancements in power armor tech, weaponry, and armor to stamp out Nazi scum. Level up, explore, and complete missions to unlock new abilities, weapon attachments, gadgets, cosmetics, and more to complement your playstyle.
Playlist