Watch Dogs: Legion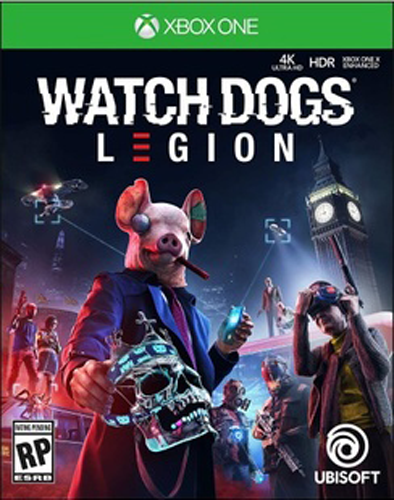 Xbox One
Condition: New
Release Date: October 29, 2020
G-O Number: 0040-XONE-N
UPC Number: 887256090722
Publisher: Ubisoft
Developer: Ubisoft
ESRB Rating
Blood and Gore, Drug Reference, Intense Violence, Sexual Themes, Strong Language, Use of Alcohol
This is an action-adventure game set in futuristic London during the upheaval following a terrorist bombing. Players control members of a hacker group intent on resisting malevolent powers through a variety of means, including violence. From a third-person perspective, players explore an open-world environment while hacking electronic devices, using stealth to infiltrate/obtain information, and engaging in combat with enemies. Players use melee weapons (e.g., pipes, crowbars) and firearms (e.g., pistols, machine guns, assault rifles) to kill enemies; combat can be frenetic, highlighted by realistic gunfire, slow-motion effects, cries of pain, and blood-splatter. Cutscenes depict further instances of violence: a man shot in the head; a crime lord beaten to death by several people; a character stabbed in the neck with a scalpel. During the course of the game, players can encounter a human-organ harvesting operation where corpses are depicted lying on tables/slabs amid bloodstained rags, surgical instruments, and severed hands or feet. The game contains some sexual material: red light districts with sex shops advertising nude dancers and sex toys; missions/storylines referencing prostitution. As players explore the open-world, their character can drink alcoholic beverages, causing the screen to distort and the character to eventually pass out. Some missions involve drugs/drug running, or have players navigating locations that depict drug packages, scales, and other paraphernalia. The words "f**k," "c*nt," and "sh*t" appear in the dialogue.
Standard Edition includes:
Golden King Pack (Mask, Car Skin & 2 Weapon Skins)
Description
Watch Dogs: Legion is a recipient of over 65 E3 Awards and Nominations.
Build a resistance made from anyone in the world to take back a near-future London that is facing its downfall.
Experience a never-before-seen gameplay innovation that allows you to recruit and play as anyone you see in the iconic city of London.
Features
Every single character is playable and has a unique backstory, personality and skillset
Hack armed drones, deploy spider-bots, and take down enemies using an Augmented Reality Cloak
Explore a massive urban open world featuring Londons many iconic landmarks and fun side activities
Take your recruits online and team up with your friends as you complete missions and challenging endgame content
Playlist
Additional Information
This game leverages Smart Delivery allowing access to both the Xbox One title and Xbox Series X title when available.