Tiger Woods PGA Tour 2010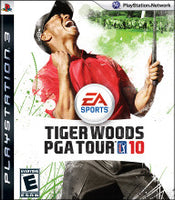 Condition: Used
Release Date: June 08, 2009
G-O Number: {{ current_variant.sku }}
Publisher: EA Sports
Developer: EA Tiburon
ESRB Rating
No Descriptors
This is a golf simulation game in which players can customize a character, play as or against real-life PGA golfers, and compete on realistic courses from around the world. Players can also engage in a variety of mini-games to practice controlling their swing for height, direction, and distance.
Description
Feel the drama of playing tournament golf with Tiger Woods PGA TOUR 10. For the first time in franchise history, take aim at capturing the U.S. Open Championship on the ever-challenging Bethpage Black. Playing in front of huge galleries and hearing crowd reactions from nearby holes, take your game to the next level when it matters most as you try to hold off a charging Tiger Woods and other PGA TOUR Pros. Whether you're fighting the course, the crowd, dynamic weather conditions, or the field, feel the drama on every swing with Tiger Woods PGA TOUR 10.
Features
Excitement on Every Swing - Huge galleries, digital leaderboards, and dynamic crowd reactions throughout the course add to the intense experience of real tournament golf.
Win the U.S. Open Championship - For the first time ever, feel the drama of playing in the U.S. Open, one of golf's biggest - and toughest - tournaments of the year. Known for its extremely challenging playing conditions, Bethpage Black tests even the best golfers.
Take the Tournament Challenge - Replay dramatic scenarios from past PGA TOUR seasons as you're placed on the course at the precise moment before history was made - only this time, you determine the outcome.
Dynamic Weather Conditions - Powered by the Weather Channel, real-time weather now has a major effect on gameplay conditions. If it's raining in Ponte Vedra Beach, Fl, then you too can face the challenge of a rain-soaked TPC Sawgrass.
EA SPORTS Live Tournaments - Prove yourself against the best players online in unique tournament events. Play alongside actual PGA TOUR Pros during real-world PGA TOUR events or swing away in daily and weekly tournaments as you fight to stay atop the leaderboard.
Precision Putting - With the all-new fixed length putter you'll face the challenge of reading the greens and determining the exact distance to the hole. Maintaining speed and control throughout your swing ensures putting accuracy.