Tom Clancy's: Ghost Recon Breakpoint Gold Edition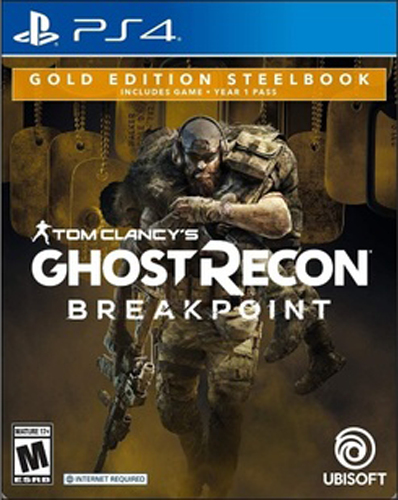 Playstation 4
Condition: New
Release Date: October 01, 2019
G-O Number: 0037-PS4-N
UPC Number: 887256090456
Publisher: Ubisoft
Developer: Ubisoft
ESRB Rating
Blood, Intense Violence, Mild Sexual Themes, Strong Language
This is a third-person shooter in which players lead a special ops unit to investigate a tech company in a military setting. Players explore an open-world environment, complete mission objectives (e.g., recon, extraction, assassinations), and engage in combat against enemy militia. Players use machine guns, rifles, rocket launchers, and explosives to kill soldiers and drone units in frenetic combat; players can also shoot and kill civilians, though this may result in a mission failure. Battles are accompanied by realistic gunfire, large explosions, and blood-splatter effects. By grappling unsuspecting enemies from behind, players can interrogate them for information, use them as human shields, and/or execute them with knife attacks. Cutscenes depict additional acts of violence: a bound prisoner repeatedly beaten with a baton; a screaming man being tortured; a soldier repeatably stabbed in the neck. The game includes brief sexual references in the dialogue (e.g., "'Now I gotcha and I'm gonna scr*w you all night long'"; "They [drones] are more than just machines. They are the world's greatest sex toy"; "But even world 2.0—it's just mud, blood, and c*m."). The words "f**k," "sh*t," and "a*shole" are heard in the game.
Gold Edition includes:
SteelBook packaging
Year 1 Pass
Description
Become a Ghost, an Elite US Special Operations soldier, as you fight to survive against your brothers who have turned against you.
Features
Put yourself in the shoes of a Spec Ops soldier stranded behind enemy lines as you explore the massive open world.
Create your own playstyle with a huge variety of classes, weapons, and equipment.
Maintain all of your progress and rewards however you play, from solo to co-op or even PvP.
Playlist