Super Mario 3D World + Bowser's Fury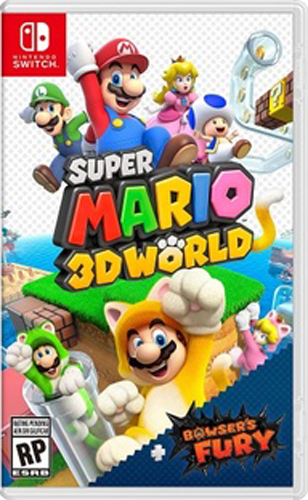 Nintendo Switch
Condition: New
Release Date: February 12, 2021
G-O Number: 0030-NSWI-N
UPC Number: 045496594022
Publisher: Nintendo
Developer: Nintendo
ESRB Rating
Mild Cartoon Violence
This is a collection of action platformers in which players assume the roles of Mario and his friends on various rescue quests. Players run and jump through 3D environments, hop on enemies' heads, and use power-ups (e.g., fireballs, boomerangs, invincibility stars) to defeat whimsical characters. Enemies generally crumble into pieces, get briefly stunned, or disappear amid puffs of smoke and scattered coins. A handful of sequences depict fireball attacks and players throwing giant spikes at boss characters.
Description
Enjoy two Mario adventures solo or with friends!
Pounce and climb through dozens of colorful courses! Mario (and his friends) can use a variety of power-ups like the Super Bell, which grants catlike abilities like climbing and scratching. Team up with up to three other players locally* or online** to reach the goal and see who can get a high score.
Explore a seamless feline world in the new Bowser's Fury adventure
Free-roaming Super Mario gameplay makes a return in this brand-new adventure. Bowser has become gargantuan and lost all control! Explore Lake Lapcat and its islands, complete objectives to collect Cat Shines, and team up with Bowser Jr. to bring his big, bad dad back to normal. Just watch out for Bowser's island-wide attacks.
Features
The Super Mario 3D World + Bowser's Fury game features the same great co-op gameplay, creative levels and power-ups as the original game, but with added improvements. In the Super Mario 3D World part of the game, characters move faster and the dash powers up more quickly. Both adventures support the newly added Snapshot Mode—pause the action to get the perfect shot, apply filters, and decorate with stamps!
In Super Mario 3D World, choose from Mario, Luigi, Peach, and Toad and set off to save the Sprixie Kingdom. Each character has a distinct playstyle—Luigi can jump extra high and Peach can float for a short time. Rosalina is also available as a playable character later in the game! Jump, dash, and pounce to reach the goal while collecting Green Stars, coins and power-ups.
Collect stamps throughout your adventure in Super Mario 3D World and use them in Snapshot Mode (in both Super Mario 3D World and the Bowser's Fury adventure) to create masterpieces to share with friends and family.
In Bowser's Fury, Mario arrives on Lake Lapcat and is confronted with a rampaging Bowser! Join forces with Bowser Jr. and venture through an interconnected world made of cat-themed…well, everything. Enemies, flowers, and even birds take on a feline form.
Need some extra assistance bringing Bowser out of his frenzied, furious state? Another player can take control of Bowser Jr. and help out by attacking enemies and storing power-ups. Two sets of claws are better than one!
Playlist
Additional Information
*Additional accessories may be required for multiplayer mode. Sold separately
** Nintendo Switch Online membership (sold separately) and Nintendo Account required for online features.

Not available in all countries.
Internet access required for online features.