Star Wars: Jedi Fallen Order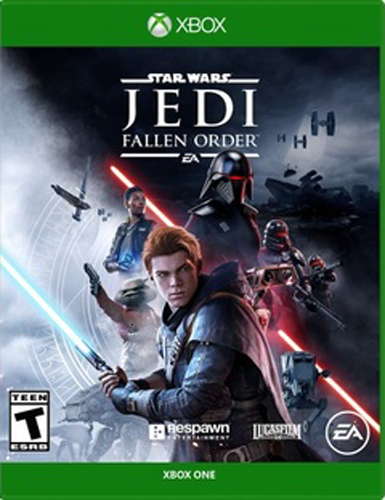 Xbox One
Condition: New
Release Date: November 15, 2019
G-O Number: 0037-XONE-N
UPC Number: 014633373103
Publisher: Electronic Arts
Developer: Respawn Entertainment
ESRB Rating
Mild Language, Violence
This is an action game in which players assume the role of a Jedi (Cal Kestis) as he explores planets while fleeing from the Empire. From a third-person perspective, players traverse landscapes, search for other Jedi, and battle Imperial forces. Players use light sabers, blasters, and laser turrets to kill/destroy enemies (e.g., Imperial soldiers, droids, ships, tank-like mechs) in frenetic combat. Battles are highlighted by screams of pain, frequent impact sounds, and large explosions. Some levels allow players to control and shoot from large-scale walking mechs; from these vehicles, players shoot at several stormtroopers, aircraft, and buildings. The word "bastard" appears in the dialogue.
Description
A galaxy-spanning adventure awaits in Star Wars Jedi: Fallen Order, a new 3rd person action-adventure title from Respawn Entertainment. This narratively-driven single player game puts you in the role of a Jedi Padawan who narrowly escaped the purge of Order 66 following the events of Episode 3: Revenge of the Sith. On a quest to rebuild the Jedi Order, you must pick up the pieces of your shattered past to complete your training, develop new powerful Force abilities, and master the art of the iconic lightsaber - all while staying one step ahead of the Empire and its deadly Inquisitors. While mastering your abilities, players will engage in cinematically-charged lightsaber and Force combat designed to deliver the kind of intense Star Wars lightsaber battles as seen in the films. Players will need to approach enemies strategically, sizing up strengths and weaknesses while cleverly utilizing your Jedi training to overcome your opponents and solve the mysteries that lay in your path.
Star Wars fans will recognize iconic locations, weapons, gear, and enemies while also meeting a roster of fresh characters, locations, creatures, droids and adversaries new to Star Wars. As part of this authentic Star Wars story, fans will delve into a galaxy recently seized by the Empire. As a Jedi hero-turned-fugitive, players will need to fight for survival while exploring the mysteries of a long-extinct civilization all in an effort to rebuild the remnants of the Jedi Order as the Empire seeks to erase the Jedi completely.
Features
Cinematic, Immersive Combat - Jedi: Fallen Order delivers the fantasy of becoming a Jedi through its innovative lightsaber combat system " striking, parrying, dodging - partnered with a suite of powerful Force abilities youll need to leverage to overcome obstacles that stand in your way
A New Jedi Story Begins - As a former Padawan on the run from the Empire, you must complete your training before Imperial Inquisitors discover your plan to revive the Jedi Order
The Galaxy Awaits - Ancient forests, windswept rock faces, and haunted jungles are all unique biomes youll explore in Jedi: Fallen Order, with the freedom to decide when and where you go next
Playlist