Shadow of the Tomb Raider: Limited Edition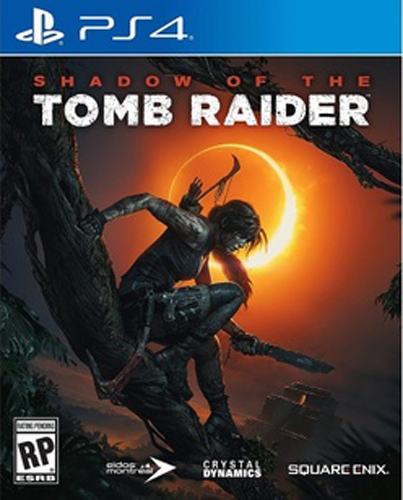 Playstation 4
Condition: New
Release Date: September 14, 2018
G-O Number: 0006-PS4-N
UPC Number: 662248921273
Publisher: Square Enix
Developer: Eidos Montreal, Crystal Dynamics
ESRB Rating
Blood and Gore, Intense Violence, Strong Language
This is an action game in which players assume the role of archaeologist Lara Croft as she attempts to stop a mysterious group known as Trinity. From a third-person perspective, players can explore jungles and tombs, solve puzzles, and engage in combat with enemy figures and animals. Players use firearms (e.g., pistols, shotguns, machine guns), arrows, and an ice pick/axe to attack and kill enemies. Combat is highlighted by screams of pain, realistic gunfire, and explosions. Some areas allow Lara to use stealth to sneak up behind her enemies before stabbing them in the head or chest. Players must avoid traps/hazards when grappling and exploring tombs; when Lara fails to avoid these dangers, players are shown brief cutscenes of Lara being impaled on spikes, stabbed with spears, or mauled by animals. Action is frequently accompanied by realistic blood effects, and some areas contain mutilated corpses on sacrificial altars, hanging from the ceiling, or piled in a cave. The words "f**k," "sh*t," and "a*shole" appear in the dialogue.
Limited Edition includes:
3 Art Cards
Steelbook Packaging
Description
Experience Lara Crofts defining moment as she becomes the Tomb Raider. In Shadow of the Tomb Raider, Lara must master a deadly jungle, overcome terrifying tombs, and persevere through her darkest hour. As she races to save the world from a Maya apocalypse, Lara will ultimately be forged into the Tomb Raider she is destined to be.
Features
Survive and Thrive In the Deadliest Place on Earth - Master an unforgiving jungle setting in order to survive. Explore underwater environments filled with crevasses and deep tunnel systems
Become one with the Jungle - Outgunned and outnumbered, Lara must use the jungle to her advantage. Strike suddenly and disappear like a jaguar, use mud as camouflage, and instill fear in enemies to sow chaos
Discover Dark and Brutal Tombs - Tombs are more terrifying than ever before, requiring advanced traversal techniques to reach them, and once inside they are filled with deadly puzzles
Uncover Living History - Discover a hidden city and explore the biggest hub space ever found in a Tomb Raider game
Playlist