Resident Evil 3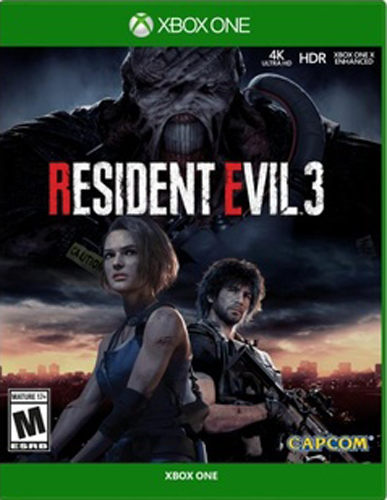 Xbox One
Condition: New
Release Date: April 03, 2020
G-O Number: 0051-XONE-N
UPC Number: 013388550463
Publisher: Capcom
Developer: Capcom
ESRB Rating
Blood and Gore, Intense Violence, Strong Language
This is survival-horror action game in which players assume the role of a special units member (Jill Valentine) as she tries to escape a zombie outbreak. From a third-person perspective, players traverse various environments (e.g., subways, city streets, building corridors) as they avoid being attacked by zombies and large enemy creatures. Players use pistols, machine guns, shotguns, and explosives to defend themselves and kill creatures. Some attacks result in decapitation and/or dismemberment of enemies, often accompanied by large splatters of blood. Cutscenes depict additional acts of violence: a man executed at close range; a character impaled through the chest by a creature's tentacle. A handful of areas depict mutilated corpses/zombies with exposed organs and viscera. The words "f**k" and "sh*t" are heard in the dialogue.
Description
Witness the climactic events of Raccoon City in a completely reimagined Resident Evil 3. This highly demanded follow-up in the 94 million unit selling franchise comes on the heels of the award-winning Resident Evil 2, and completes the Raccoon City story arc.
In Resident Evil 3, S.T.A.R.S. member Jill Valentine, one of video games most iconic heroines, flees a city being consumed by zombies and other horrifying creatures. Built with Capcom's proprietary RE Engine, Resident Evil 3 uses modernized gameplay to combine action with classic survival horror in vivid high-definition. Jills harrowing experiences in Resident Evil 3 take place in the nightmarish hours leading up to and following the events in Resident Evil 2, shedding new light on the plight of Raccoon Citys residents. Every hope of escape is cut off by another star in the Resident Evil franchise: the towering Bio Organic Weapon Nemesis. This brutal yet intelligent monstrosity uses an arsenal of high-powered weaponry to indiscriminately eliminate any surviving S.T.A.R.S. members in the city - with Jill being his final target.
Features
A fan favorite reborn - This highly requested title modernizes a classic favorite 20 years after the original games release.
Up close and personal - An over-the-shoulder camera and modernized control scheme update the 1999 survival horror classic, drawing players into every blood curdling encounter and horrific scare while they navigate the ruins of Raccoon City.
Another side of Raccoon City - Experience another perspective of the once-vibrant citys nightmarish outbreak of the TVirus, a biological weapon developed by Umbrella Corporation. Jills harrowing struggle for survival takes her from the early moments of the outbreak, and overlaps with the events depicted in the acclaimed best-selling Resident Evil 2 before arriving at the dramatic conclusion of the Raccoon City saga.
Intense action meets classic survival horror - Overcome chilling encounters in a constant fight for survival that ratchets up the genre-defining horror games intensity. Nail-biting exploration complements the gripping puzzle solving that fans have come to love.
Bone-chilling tension amplified - RE Engine creates a photorealistic apocalyptic setting where grotesque zombies, horrific creatures, and a persistent stalker await around every dark corner. The proprietary engine has fueled a portfolio of acclaimed games such as Resident Evil 2, Devil May Cry 5 and Resident Evil 7 biohazard.
Includes Resident Evil Resistance - This online 4 vs. 1 asymmetrical multiplayer experience offers both cooperative and competitive gameplay, where players can create their own survival horror experience in the Resident Evil universe.
Playlist