Rage 2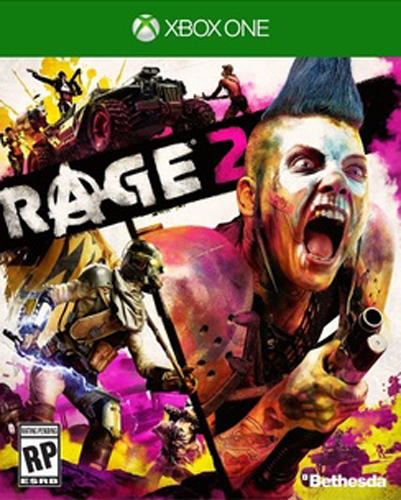 Xbox One
Condition: New
Release Date: May 14, 2019
G-O Number: 0021-XONE-N
UPC Number: 093155174085
Publisher: Bethesda
Developer: Avalanche Studios, Id Software
ESRB Rating
Blood and Gore, Intense Violence, Strong Language, Suggestive Themes
This is a first-person shooter in which players assume the role of a man fighting in a post-apocalyptic world. From a first-person perspective, players use pistols, machine guns, grenades, and futuristic weapons to attack and kill mutant creatures and humans in frenetic combat. Action is highlighted by realistic gunfire, explosions, and screams of pain. Large blood-splatter effects occur frequently, and several weapons cause enemies to explode into chunks of flesh; some weapons can also result in decapitations. One scene requires players to search for an item amid a corpse's entrails. Game text contains some suggestive/sexual material (e.g., "[H]e's just standing over there...stroking his shorts like that, smiling..."; A d*ck's not that big when it's empty of, you know, blood, right? How you gonna choke on that?"; "[H]is underground gas-dungeon—a place where he also produces his sex tapes, tortures people..."). The words "f**k," "sh*t," and "c*mguzzler" appear in the dialogue.
Description
Dive headfirst into a dystopian world devoid of society, law, and order. RAGE 2 brings together two studio powerhouses - Avalanche Studios, masters of open world insanity, and id Software, the creators of the first-person shooter - to deliver a carnival of carnage where you can go anywhere, shoot anything, and explode everything.
An asteroid has annihilated 80% of the earth's population, and humanity's numbers are dwindling. Ruthless and bloodthirsty gangs roam the open roads and the tyrannical Authority seek to rule with an iron fist. As Walker, the last Ranger of the wasteland and a threat to their power, you have been robbed of your home and left for dead.
With ludicrous vehicle combat, super-powered first-person mayhem, and an open world full of emergent madness, you will tear across an unforgiving wasteland battling sadistic gangs to find the tools and tech needed to crush the oppressive rule of The Authority once and for all.
Features
WELCOME TO THE SHOOTERVERSE - id Softwares shooter pedigree and Avalanche Studios open world prowess is dream-team-made-real for RAGE 2.
THE WASTELAND AWAITS - Seamlessly traverse a vast and varied landscape, from lush jungles and treacherous swamps to sun-scorched deserts in your pursuit of The Authority.
PEDAL TO THE METAL - From monster trucks to gyrocopters, use an assortment of rugged and wasteland-ready vehicles to speed across the badlands. If you see it, you can drive it
THE LAST RANGER - Bring the pain using a collection of upgradable weapons, devastating Nanotrite powers, and Overdrive, the ability to push your guns beyond their mechanical limits.
FACTIONS & FOES - Fight against ferocious factions for control of the wasteland, each featuring a rogue's gallery of madmen, mutants, and monsters hungry for blood.
Playlist