Mortal Kombat 11: Premium Edition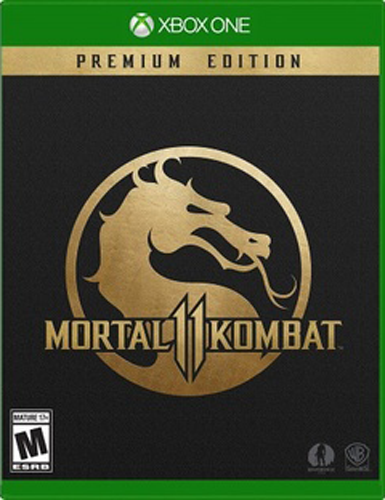 Xbox One
Condition: New
Release Date: April 23, 2019
G-O Number: 0019-XONE-N
UPC Number: 883929673742
Publisher: WB Games
Developer: NetherRealm Studios
ESRB Rating
Blood and Gore, Intense Violence, Strong Language
This is a fighting game in which players engage in one-on-one battles against characters from the Mortal Kombat universe. Players punch, kick, throw, and use special attacks (e.g., guns; blasts of fire, ice, or lightning; bladed weapons) to drain opponents' life meters. Battles are highlighted by screams of pain, realistic gunfire, and exaggerated impact sounds; large blood-splatter effects occur frequently. Some attacks are depicted with slow-motion x-ray views of characters' bones shattering. Each character can perform various finishing moves (Fatalities, Brutalities) after an opponent is defeated; these over-the-top moves can result in characters being dismembered, decapitated, and mutilated. Instances of intense violence include a character's face and skull torn off; a character ripped in half leaving entrails exposed; a character cut into pieces by a hat blade; a character's spine and head ripped from its body. The words "f**k," "sh*t," and "a*shole" appear in the dialogue.
Premium Edition includes:
Full Game
Kombat Pack

6 New DLC Playable Characters
7 Exclusive Character Skins
Gear Sets for Customization

Steel Case
Description
Mortal Kombat is back and better than ever in the next evolution of the iconic franchise.
The all new Custom Character Variations give you unprecedented control to customize the fighters and make them your own. The new graphics engine showcasing every skull-shattering, eye-popping moment, brings you so close to the fight you can feel it. And featuring a roster of new and returning Klassic Fighters, Mortal Kombats best in class cinematic story mode continues the epic saga over 25 years in the making.
Playlist