Metro Exodus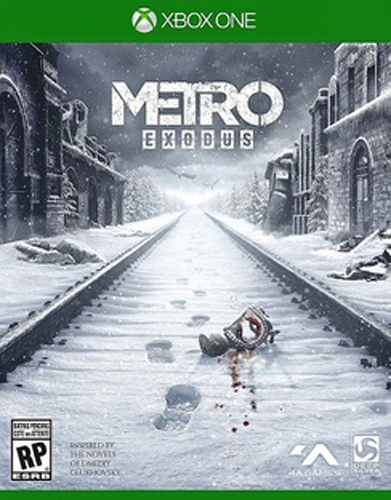 Xbox One
Condition: New
Release Date: February 15, 2019
G-O Number: 0014-XONE-N
UPC Number: 816819014509
Publisher: Deep Silver
Developer: 4A Games
ESRB Rating
Blood and Gore, Intense Violence, Partial Nudity, Sexual Themes, Strong Language, Use of Drugs
This is a first-person shooter in which players assume the role of a soldier (Artyom) exploring the post-apocalyptic wasteland of the former Russian Federation. As players traverse underground tunnels and irradiated environments, they use machine guns, rifles, shotguns, and explosives to kill mutant creatures and other human survivors. Combat is accompanied by realistic gunfire, screams of pain, and large blood-splatter effects. Players can also perform stealth attacks (e.g., knife stabs to the neck, knife throws) to discretely eliminate enemies. Some areas depict severed body parts and mutilated corpses with exposed organs/viscera. Cutscenes may also depict intense acts of violence: a character shot in the face at close range; civilians executed by enemy soldiers. The game contains some sexual material in the dialogue (e.g., "…[S]pread your legs a couple of times and enjoy the rest of the day"; "Imagine we got a chick here, eh? I'd be doing her from now till next morning…"; "…[Y]ou lost your f**king butt plug"; "Sure would be nice to hit the sack with a fat juicy wh*re..."); there are also depictions of topless dancers atop a club stage. In some sequences, players' character can inhale from a hookah and experience drug-like effects (e.g., distorted/blurry screen, hallucinations). The words "f**k" and "sh*t" are heard in the game.
Standard Edition includes:
Metro 2033 Redux (Xbox Exclusive)
Description
Metro Exodus is a story-driven, first person shooter from 4A Games that blends deadly combat and stealth with exploration and survival horror in one of the most immersive game worlds ever created.
Flee the shattered ruins of dead Moscow and embark on an epic, continent-spanning journey across post-apocalyptic Russia in the greatest Metro adventure yet.
Explore the Russian wilderness in vast, non-linear levels and follow a thrilling story-line inspired by the novels of Dmitry Glukhovsky that spans an entire year through spring, summer and autumn to the depths of nuclear winter.
Features
Embark on an incredible journey - Board the Aurora, a heavily modified steam locomotive, and join a handful of survivors as they search for a new life in the East
Experience Sandbox Survival - A gripping story links together classic Metro gameplay with new huge, non-linear levels
A beautiful, hostile world - Discover the post-apocalyptic Russian wilderness, brought to life with stunning day / night cycles and dynamic weather
Deadly combat and stealth - Scavenge and craft in the field to customize your arsenal of hand-made weaponry, and engage human and mutant foes in thrilling tactical combat
Your choices determine your comrades' fate - Not all your companions will survive the journey; your decisions have consequence in a gripping storyline that offers massive re-playability
The ultimate in atmosphere and immersion - A flickering candle in the darkness; a ragged gasp as your gasmask frosts over; the howl of a mutant on the night wind - Metro will immerse and terrify you like no other game...
Playlist