Marvel's Iron Man VR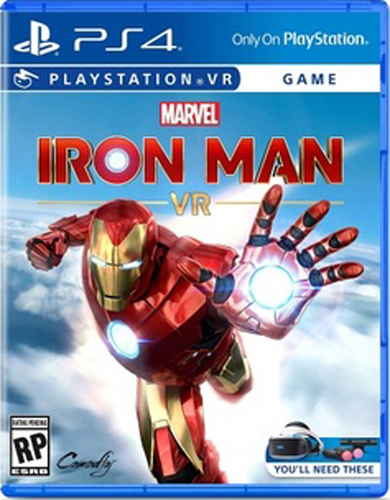 Playstation 4
Condition: New
Release Date: July 03, 2020
G-O Number: 0056-PS4-N
UPC Number: 711719520979
Publisher: Sony Interactive Entertainment
Developer: Camouflaj
ESRB Rating
Mild Language, Violence
This is a VR action-adventure game in which players assume the role of Tony Stark/Iron Man as he battles a villain intent on destroying his company. From a first-person perspective, players interact with different characters and engage in combat in the Iron Man suit. Players use lasers, missiles, and repulsor rays to destroy waves of enemy drones and tanks. Battles are accompanied by large explosions and realistic gunfire effects. In one sequence, civilians can be heard screaming inside elevators, as players attempt to help them escape detonations. Cutscenes depict additional acts of violence: a character pointing a pistol towards the screen; a bound Tony getting his arc reactor ripped out of his chest. The word "a*s" is heard in the game.
Description
Don the PlayStation VR headset* to suit up as the Armored Avenger in an original Iron Man adventure!
Tony Stark has retired from making weapons and instead creates technology used to battle evil as Iron Man.
After several years as a world-famous Super Hero, Tony is attacked by the mysterious Ghost, a hacker and anti-corporate activist who repurposes old Stark Industries weapons.
In her efforts to topple his empire, Ghost attacks Starks corporate locations around the world, leading to ever-escalating stakes and a final showdown.
Features
Using two PlayStation Move motion controllers** fire up Iron Mans Repulsor Jets and blast into the skies with an arsenal of iconic Iron Man gear at your fingertips.
Face off against one of Iron Mans greatest foes in high stakes, action-packed battles.
Upgrade tech in Tony Starks garage to customize Iron Mans sleek armor and awesome abilities.
Playlist