Marvel's Avengers: Deluxe Edition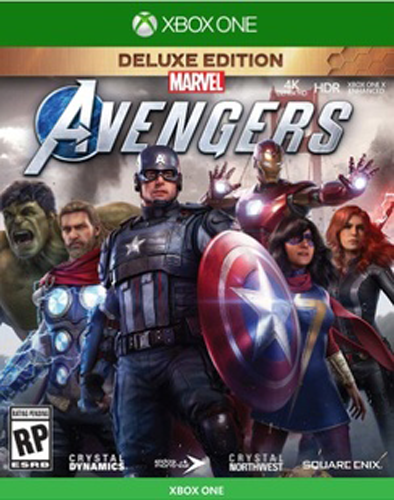 Xbox One
Condition: New
Release Date: September 01, 2020
G-O Number: 0055-XONE-N
UPC Number: 662248922935
Publisher: Square Enix
Developer: Crystal Dynamics, Nixxes Software BV, Eidos Montreal
ESRB Rating
Language, Mild Blood, Violence
This is an action-adventure game in which players assume the roles of the Avengers battling an evil corporation. From a third-person perspective, players engage in a variety of combat missions using each character's weapons/abilities; characters use melee combat (e.g., punches, kicks, throws, smashes), pistols and machine guns, lasers, thrown projectiles (e.g., hammer, shield, rock) to defeat enemies. Combat can be frenetic, with frequent explosions, cries of pain, and gunfire. The word "sh*t" is heard in the game.
Deluxe Edition includes:
The exclusive Obsidian Outfit pack for your Avengers, including Captain America, Iron Man, Black Widow, Thor, Hulk, and Ms. Marvel, along with six exclusive Obsidian-themed nameplates to further customize your gameplay cosmetics. Also, includes one free month of Marvel Unlimited** (online comic subscription service), while supplies last.
Description
Assemble your team of Earths Mightiest Heroes, embrace your powers, and live your Super Hero dreams.
Marvels Avengers is an epic, third-person, action-adventure game that combines an original, cinematic story with single-player and co-operative gameplay*. Assemble into a team of up to four players online, master extraordinary abilities, customize a growing roster of Heroes, and defend the Earth from escalating threats.
Marvels Avengers begins at A-Day, where the Avengers are unveiling a hi-tech new Headquarters in San Francisco. The celebration turns deadly when a catastrophic accident results in massive devastation. Blamed for the tragedy, the Avengers disband.
Five years later, with all Super Heroes outlawed and the world in peril, a sprawling adventure ignites when a determined young woman named Kamala Khan sets out to reassemble the Avengers to stop the secretive new force known as AIM.
Marvels Avengers continues the epic journey with new Heroes and new narrative delivered on an ongoing basis, for the definitive Avengers gaming experience.
Features
Embrace Your Powers

Progress through the single player campaign to rebuild your Hero roster and restore their powers; then continue to battle AIM solo or online with friends.
Unlock powerful skills and new gear for each of Earths Mightiest Heroes to suit your playstyle.
Customize these iconic Heroes with classic, fan-favorite, and all-new original outfits inspired by over 80 years of Marvel history.

Assemble Online

Using a reclaimed helicarrier as a base of operations, players launch Hero Missions (single-player) and Warzone Missions (single-player or co-op) in hotspots around the globe.
Up to four players assemble online to defend the Earth from escalating threats that only the Avengers can overcome.
The narrative will unfold on an ongoing basis, with new Super Heroes and regions delivered at no additional cost.
Playlist
Additional Information
This game leverages Smart Delivery allowing access to both the Xbox One title and Xbox Series X title when available.
*One-time online access required for single-player campaign; online access required for multiplayer and to download post-launch content.
*Free Square Enix Members account required.
*Platform-specific online subscription fee may be required.