Madden NFL 19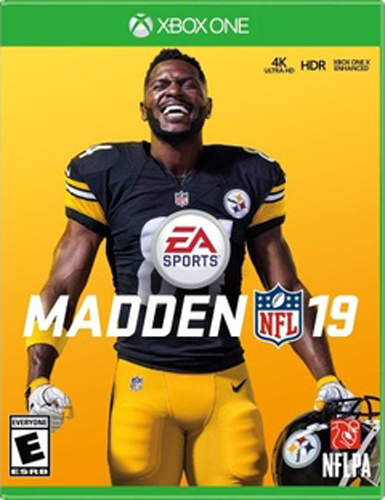 Xbox One
Condition: New
Release Date: August 10, 2018
G-O Number: 0005-XONE-N
UPC Number: 014633371758
Publisher: EA Sports
Developer: EA Tiburon
ESRB Rating
Mild Language
This is a football simulation game in which players can select from real NFL rosters to play games of football. Players can create and run plays, arrange playbooks, improve skills, and create/manage a franchise. The word "hell" is heard in the game.
Description
Achieve your gridiron greatness in Madden NFL 19 with more precision and control to win in all the ways you play. Prove your on-field stick-skills with more control over every step, in game-changing moments through the introduction of Real Player Motion. Take control over how you build your dynasty powered by all-new strategic team building tools and the first ever custom draft class creator in Franchise. Dominate the competition with all new ways to build and progress your NFL stars from the past and present in Ultimate Team.
Features
Real Player Motion: Built from the ground up, Real Player Motion transforms the way you play Madden delivering game-changing control and precision on the field. Realistic character movements provide smooth, immersive animations for adaptive and believable player motion while animation variety creates authentic movement unique to positions and body types. Your favorite players become true-to-life from snap to whistle.
All-New Gameplay Concepts

One-Cut: Control your ball carrier to change direction, avoid the tackle, and accelerate toward the end zone.
Hit the Hole: Allows your ball carrier to find the open lane, maneuver around your opponent, and seamlessly run through the lane for extra yardage.
Push the Pile: Power through defenders at the line of scrimmage for that critical inch to get a first down or touchdown.
Zone Coverage AI: Authentic NFL zone coverage principles better equip defenders with necessary intelligence and techniques to counter offenses more effectively.

Favorite Ways to Play

Franchise: Control your scheme and develop players all the way to the Super Bowl!
Strategy is key in your decisions as you take complete control over how you build your dynasty with three all-new franchise-building concepts. Design your team by selecting authentic offensive and defensive schemes then train, develop, and/or acquire players that fit your scheme using all-new positional archetypes. See your championship scheme come to life as you lead your team to multiple Super Bowls!
Madden Ultimate Team: Your players, your strategy, your glory. - Madden Ultimate Team delivers the complete NFL fantasy team-building mode with new ways to progress your favorite players from the past and present while providing fun, live solo and co-op challenges to compete in all year-round. Earn rewards in all-new ways to play and upgrade your team with a host of legendary NFL players.
Playlist