Halo: Reach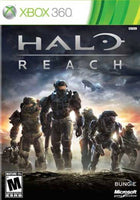 Condition: New
Release Date: September 14, 2010
G-O Number: 0010-X360-N
UPC Number: 885370040159
Publisher: Xbox Game Studio
Developer: Bungie
ESRB Rating
Blood, Violence
This is a first-person shooter in which players engage in futuristic battles against invading aliens. Players use pistols, sniper rifles, machine guns, grenade launchers, and swords to kill enemies during frequent and fast-paced combat. Characters are occasionally impaled on glowing swords, and aliens can be seen stabbing fallen figures during some battle sequences. Gun fights are highlighted by realistic gunfire sound effects, explosions, and screams of pain. Human and alien characters emit spurts of blood when injured; players are able to shoot dead enemies, causing more blood to splash out. Blood is sometimes depicted on the walls and ground.
Standard Edition includes:
Description
Because Halo is the best-selling Xbox franchise of all-time, the developers at Bungie had their work cut out for them when they were deciding what to do next with the series that has set the gaming standard for the last 10 years. Fortunately for us, they decided that the next step should be a prequel, and you'll experience the beginning of the Halo legend, when the heroic Spartan soldiers make their final stand on the planet Reach, humanity's last line of defense between the Covenant and Earth. We've all seen the carnage that one Spartan can produce. Imagine what a whole squadron of them can do. We all know how this one ends up, too. So the story has a fittingly darker, grittier edge to it as the brave Spartans go to meet their destiny. But you can make sure they go out in a blaze of glory in epic battles against the Covenant on a backdrop of jaw-dropping environments, powered by an all-new engine. And of course, the battles will continue long after the campaign is over on Xbox Live with a satisfying multiplayer experience. We'd expect nothing less from this one.
Features
Welcome to Noble Team - Halo: Reach immerses you in the ominous and heroic story of Halo: Reach as you play as a member of Noble Team, a squad of iconic Spartan soldiers, each with deadly talents as unique as their individual personalities and customized gear.
An Intense and Epic Campaign - Live the events that set the stage for the Halo trilogy as the UNUNSC and Covenant clash at the height of their military power. New weapons, vehicles, and abilities complement the familiar Halo arsenal for the largest-scale battles ever witnessed in the Halo universe. Fiercely cunning artificial intelligence (AI) adds depth and complexity to each encounter, helping make every play-through a unique and challenging experience whether players go it alone or connect with up to three friends to launch a cooperative assault.
The Definitive Multiplayer Experience - To match the ambition of the most epic campaign in Halo's history, the battle continues online where Halo: Reach's dramatically expanded suite of multiplayer offerings will once again redefine the landscape of online gaming and deliver an unequaled experience to millions of Halo fans.
Halo: Reach - Sets a new standard for competitive gameplay, customization, matchmaking and community integration. With the addition of the new social settings, you can play with the people you want to by finding like-minded teammates, voting on preferred maps and gametypes and keeping an active roster. In addition, all new multiplayer experiences offer more variety for all types of players. Invasion lets players battle as Spartans vs Elites through intense, objective-based battles. And the highly competitive Arena lets players hone their skills in an all-out competition for ranking and bragging rights.
Stunning Technical Advancements - Halo: Reach takes a significant leap forward with all-new engine technology representing the next generation of art, audio, AI, animation, and Hollywood-style special effects. Power through massive scale combat across sweeping open environments and fight up close and personal alongside new characters and creatures as you unravel mysteries buried deep in the Halo universe.
Player Customization & Reward - Halo: Reach gives you the ability to customize and personalize your Spartan with a staggering array of armor accessories that will appear in both multiplayer and campaign play. Across every game mode, you're rewarded for everything you do, for every style of play, earning valuable credits that can be used to unlock additional cosmetic upgrades via the Armory.
Playlist