Halo: Infinite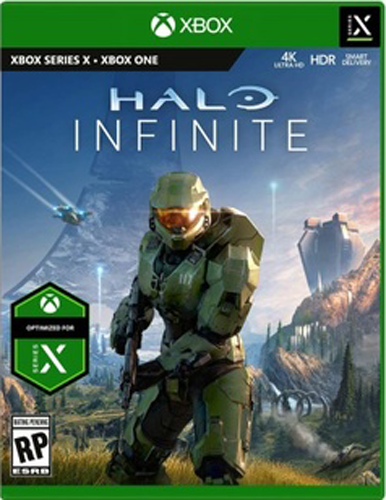 Xbox One Xbox Series X G-O Game Session
Condition: New
Release Date: December 08, 2021
G-O Number: 0001-XSX-N
UPC Number: 889842708103
Publisher: Xbox Game Studio
Developer: 343 Industries
ESRB Rating
Blood, Mild Language, Violence
This is a first-person shooter in which players assume the role of Master Chief as he searches for clues to the fall/deletion of the AI Cortana. As players traverse open-world environments, they can engage in combat missions against alien soldiers and hordes. Players use machine guns, laser swords, grenades, and futuristic weaponry to kill enemies in frenetic combat. Battles are highlighted by frequent gunfire, cries of pain, explosions, and colorful blood-like effects. Human characters emit red blood puffs when injured by gunfire. The words "a*s" and "p*ssed" appear in the game.
Description
The legendary Halo series returns with the most expansive Master Chief campaign yet.
Features
Campaign: When all hope is lost and humanity's fate hangs in the balance, the Master Chief is ready to confront the most ruthless foe he's ever faced. Begin a new and step inside the armor of humanity's greatest hero to experience an epic adventure and finally explore the scale of the Halo ring itself.
Multiplayer: Halo's celebrated multiplayer returns! More information coming later this year (requires Xbox Live Gold on console, membership sold separately).
Forge: Halo's epic content creation tool is back and more powerful than ever. More information coming later this year.
Cross-Generation Gaming: Halo Infinite provides an amazing experience across the Xbox One and Xbox Series X as well as PC with stunning graphics and world-class cross-platform play.
Playlist
Additional Information
This game leverages Smart Delivery allowing access to both the Xbox One and Xbox Series X title when available.