Halo 5: Guardians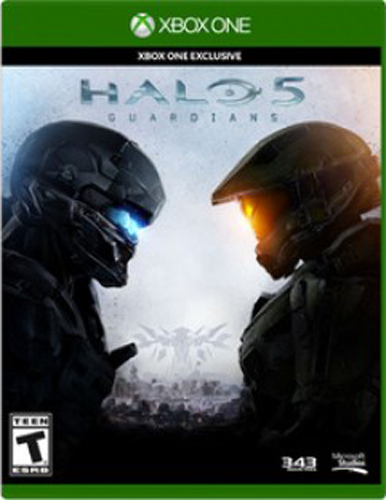 Xbox One G-O Game Session
Condition: New
Release Date: October 27, 2015
G-O Number: 0047-XONE-N
UPC Number: 885370928518
Publisher: Microsoft Studios
Developer: 343 Industries
ESRB Rating
Blood, Mild Language, Violence
This is a first-person shooter in which players assume the role of a super soldier (Locke) searching for a missing character. Players use pistols, machine guns, grenade launchers, and futuristic weapons to kill alien and human enemies in frenetic combat. Battles are highlighted by realistic gunfire, explosions, and occasional blood-splatter effects. Characters can also use "assassinations" to kill characters by snapping their necks, or by stabbing them with bladed weapons. The word "a*s" appears in the dialogue, as well as occasional taunts/insults (e.g., "I have copulated...with your genetic progenitors!"; "Your father was a filthy colo and your mother was a hole in the wall!").
Description
The hunt for the truth begins
Features
An intense new story on a galactic scale: Play as the Master Chief and Spartan Locke as the hunt plays out across three new worlds.
Your team is your weapon: Choose how to achieve objectives while playing solo with AI teammates or with friends in a 4-player cooperative experience using your Xbox Live 14-day Gold trial.
Warzone: New, massive-scale multiplayer mode that supports 24-player battles with both friendly and enemy AI dropping in. It's nonstop action when you confront Spartans, Covenant, and Forerunners while trying to complete a variety of objectives.
Arena: Halo's established legacy of pure, skill-based 4-vs-4 competitive combat.
New rewards system: Earn Requisition Points throughout the multiplayer experience, redeemable for REQ packs that deliver new gear, weapons, vehicles, and more.
Extensive Multiplayer Content: Receive more than 15 new free maps and earn fresh, new content like weapons and gear, each month after launch.
Playlist