Final Fantasy VII: Remake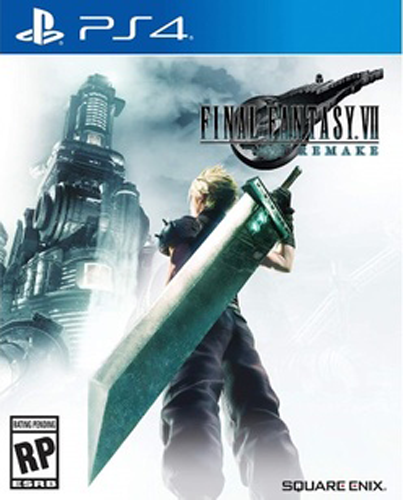 Playstation 4
Condition: New
Release Date: April 10, 2020
G-O Number: 0044-PS4-N
UPC Number: 662248923192
Publisher: Square Enix
Developer: Square Enix
ESRB Rating
Language, Suggestive Themes, Use of Alcohol and Tobacco, Violence
This is an action role-playing game in which players follow the story of a mercenary (Cloud Strife) on a quest to save the planet from evil. Players explore the city of Midgar, perform various quests, and battle monsters and soldiers in frenetic melee combat. Characters use swords, staffs, guns, and magic spells to battle fantastical monsters and human soldiers; combat is highlighted by cries of pain, impact sounds, and explosions. Cutscenes also depict instances of violence: characters impaled by swords (off-camera); a man shot repeatedly while on a stairwell. Some female characters wear revealing outfits (e.g., deep cleavage); one scene depicts a man ogling women's bodies while making suggestive hand gestures and hip movements. The game contains some alcohol content: ordering "something hard and bitter" and watching a character drink; searching for a person at the "Drunkards' Den"; watching characters drunk and slurring their speech. One cutscene depicts a character smoking a cigar. The words "sh*t," "a*shole," and "pr*ck" appear in the dialogue.
Description
A spectacular re-imagining of one of the most visionary games ever, FINAL FANTASY VII REMAKE rebuilds and expands the legendary RPG for today.
The first entry in a multi-part saga, delivering a level of depth inconceivable for the original. Mind-blowing story, unforgettable characters, epic battles and technical excellence collide.
The world has fallen under the control of the Shinra Electric Power Company, a shadowy corporation controlling the planet's very life force as mako energy.
In the sprawling city of Midgar, an anti-Shinra organization calling themselves Avalanche have stepped up their resistance. Cloud Strife, a former member of Shinra's elite SOLDIER unit now turned mercenary, lends his aid to the group, unaware of the epic consequences that await him.
Features
A spectacular reimagining of one of the most visionary games ever
The first entry in a multi-part saga, delivering a level of depth inconceivable for the original game
Mind-blowing story, unforgettable characters, epic battles and technical excellence collide
Playlist