Deus Ex: Human Revolution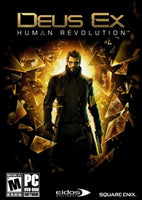 Condition: New
Release Date: October 25, 2013
G-O Number: 0001-PCG-N
UPC Number: 662248910208
Publisher: Square Enix
Developer: Eidos Montreal
ESRB Rating
Blood, Drug Reference, Intense Violence, Sexual Themes, Strong Language, Use of Alcohol
This is a first-person shooter in which players assume the role of Adam Jensen, an ex-cop who must uncover the truth behind a cybernetics company's attack. Players complete mission-based objectives to increase their character's skills (e.g., stealth, strength) and advance the main storyline. Players use pistols, shotguns, assault rifles, and explosives to kill a variety of human enemies (e.g., soldiers, police officers, gang members, drug dealers). Players can also use stealth attacks (e.g., choking, electrocution) to dispatch enemies at close range. Firefights are highlighted by screams of pain, realistic gunfire, explosions, and large sprays of blood that stain the surrounding environment. Players can sometimes make choices that result in the death of innocent characters: during one sequence, an injured man asks to be "put out of his misery"—the main character can then administer a morphine overdose. Civilians can also be killed directly, though this may negatively affect players' progress. As the game progresses, alcoholic beverages (e.g., beer, vodka, cocktails) can be purchased and consumed to reduce damage, resulting in a screen-blurring effect. In one mission, players can plant "illegal drugs" in a character's residence; marijuana products (i.e., "cigaweed") are occasionally referenced in the dialogue. Some missions contain sexual material: a brothel room containing a sex toy on the bed; dialogue with prostitutes (e.g., "They want me to get augmentations . . . for the customer's pleasure. It's sick" and "[W]e can find a quiet spot . . . Do you have enough money for me, sexy?"). The words "f**k" and "sh*t" can be heard in the dialogue.
You play Adam Jensen, a security specialist, handpicked to oversee the defense of one of America's most experimental biotechnology firms. But when a black ops team uses a plan you designed to break in and kill the scientists you were hired to protect, everything you thought you knew about your job changes. At a time when scientific advancements are routinely turning athletes, soldiers and spies into super-enhanced beings, someone is working very hard to ensure mankind's evolution follows a particular path, and you need to discover why - the decisions you take and the choices you make, will be the only things that can change it.
Features
The long-awaited return of the award winning franchise that blends the best of Action and RPG - The perfect mix of combat, stealth, hacking, and social gameplay.
Play as Adam Jensen, a mechanically augmented agent - Customize and upgrade your character with more than 50 unique augmentations that support your style of play.
Deadly Weapons - Over 20 available weapons, each with their own customizable elements.
Fight enemies including dangerous thugs, augmented special operations soldiers, advanced robots; and engage in epic boss battles.
Live the reactive and dangerous world - Your choices will have consequences in the game's world.
Play in an open-ended world - There are always multiple solutions to every challenge.
Engage the unique Cyber Renaissance setting - Discover a unique world that blends near future and Renaissance elements.
Travel the world - Visit multiple unique locations across the globe each with their own design, story and gameplay elements.
Become involved in vast global conspiracy - Unravel the story - discover who you can really trust.
Decide humanity's future - The decision you make and the actions you take will lead to an ultimate decision on mankind's future.
Operating System: Microsoft Windows XP / Windows Vista / Windows 7 (32bit & 64bit)
DirectX: Microsoft DirectX 9.0c
CPU: 2GHz Dual Core (Intel Core 2 Duo or better, AMD Athlon X2 or better)
RAM: 1GB Ram (Windows XP) / 2GB (Windows Vista / Windows 7)
Graphics: nVIDIA GeForce 8800 / AMD Radeon HD 2900 or better
Sound: 100% DirectX 9.0c compatible sound device
Optical Drive: DVD-ROM Drive
Hard Drive: 9GB of free space
Input Device: Keyboard & Mouse
Playlist