Cyberpunk 2077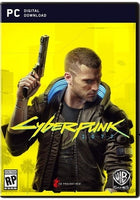 Condition: New
Release Date: December 10, 2020
G-O Number: 0017-PCG-N
UPC Number: 883929695485
Publisher: CD Projekt
Developer: CD Projekt RED
ESRB Rating
Blood and Gore, Intense Violence, Nudity, Strong Language, Strong Sexual Content, Use of Drugs and Alcohol
This is a first-person RPG/shooter in which players assume the role of a mercenary named V trying to make their way through the open-world of Night City. Players can explore futuristic locations, interact with citizens, perform missions, and engage in combat to complete various objectives within a storyline. Characters use handguns, machine guns, rifles, and explosives during frenetic firefights with humans and cybernetically enhanced enemies; players can also use melee weapons (e.g., wrist-mounted blades, enhanced limbs) to stab enemies and, in some cases, dismember them. Combat is frenetic, with frequent gunfire, cries of pain, explosions, and blood-splatter effects. Some locations depict mutilated corpses with open chest cavities and/or exposed organs/entrails. During one quest, players assist a character by hammering nails through his hands and feet; screaming sounds and blood effects accompany the scene. The game contains nudity and sexual material: Players can select a gender and customize their character; customization can include depictions of breasts, buttocks, and genitalia, as well as various sizes and combinations of genitals. Players can encounter events where they have the option to engage in sexual activities with other main characters or prostitutes—these brief sex scenes (from a first-person perspective) depict partially nude characters moaning suggestively while moving through various positions. Some scenes contain brief depictions of thrusting motions; other scenes depict a character's head moving towards a partner's crotch. The game contains frequent depictions and references to fictional drugs, including characters taking puffs/hits from a state-altering inhaler/stimulant; an animated billboard ad depicts a man snorting speed. Some sequences allow the player to drink alcoholic beverages repeatedly until the screen distorts; player's character can also drive cars while drunk. The words "f**k" and "c*nt" appear in the dialogue.
Standard Edition includes:
Game Code
Original Game Score CDs
World Compendium
Stickers
Postcards
Game Map
Digital Content Access
Cyberpunk 2077 is an open-world, action-adventure story set in Night City, a megalopolis obsessed with power, glamour and body modification. You play as V, a mercenary outlaw going after a one-of-a-kind implant that is the key to immortality. You can customize your character's cyberwar, skillset and playstyle, and explore a vast city where the choices you make shape the story and the world around you.
Features
Become a cyberpunk, an urban mercenary equipped with cybernetic enhancements and build your legend on the streets of Night City
Enter the massive open world of Night City, a place that sets new standards in terms of visuals, complexity and depth.
Take the riskiest job of your life and go after a prototype implant that is the key to immortality
OS: 64-bit Windows 7 or 64-bit Windows 10
DirectX version: DirectX 12
Processor: Intel Core i5-3570K or AMD FX-8310
Memory: 8GB
Video Card: NVIDIA GTX 780 3GB or AMD Radeon RX 470
Disc: 70 GB HDD (SSD recommended)
Playlist
Additional Information
Requires Internet Connection and GOG Galaxy Account