Call of Duty: Black Ops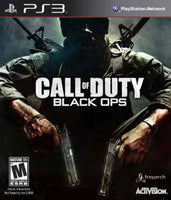 Condition: New / Used
Release Date: November 09, 2010
G-O Number: 0011-PS3
UPC Number: 047875840041
Publisher: Activision
Developer: Treyarch
ESRB Rating
Blood and Gore, Drug Reference, Intense Violence, Strong Language
This is a first-person shooter in which players assume the role of a futuristic military unit attempting to thwart the plans of a cartel. Players use machine guns, pistols, shotguns, grenade launchers, and various "cybercore" abilities (e.g., drone control, confusion for human enemies) to kill robots and soldiers amid futuristic urban environments. Action is frenetic, with frequent gunfire, explosions, cries of pain, and blood-splatter effects. Some attacks allow players to blow up enemies or blow off their arms or legs. A handful of cutscenes depict figures being beaten, tortured, or stabbed; some stabbings are depicted fairly close up. During the course of the game, players can select emblems from a menu screen for character/team customization; a few emblems are suggestive of marijuana. The words "f**k" and "sh*t" appear in the dialogue.
Description
The biggest action series of all time returns.
Call of Duty®: Black Ops is an entertainment experience that will take you to conflicts across the globe, as elite Black Ops forces fight in the deniable operations and secret wars that occurred under the veil of the Cold War.
Playlist