Call of Duty: Black Ops 4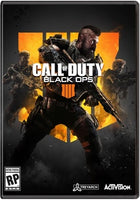 Condition: New
Release Date: October 12, 2018
G-O Number: 0004-PCG-N
UPC Number: 047875335615
Publisher: Activision
Developer: Treyarch
ESRB Rating
Blood and Gore, Drug Reference, Intense Violence, Strong Language
This is first-person shooter in which players compete in multiplayer matches within military and fantasy settings. Players use pistols, machine guns, shotguns, and rocket launchers to kill enemy soldiers and waves of zombies in frenetic combat. Some weapon attacks can result in decapitation and/or dismemberment, leaving large bloodstains and body parts on the ground; several environments depict mutilated corpses with exposed entrails/viscera. Cutscenes can also depict intense acts of violence: zombies mauling victims from a close-up perspective; warriors dismembering and beheading zombies; a creature emerging from a man's body, ripping his chest apart. A handful of environments depict packets of drugs and white powder. The words "f**k" and "sh*t" are heard in the game.
Black Ops is back! Featuring gritty, grounded Multiplayer combat, the biggest Zombies offering ever with three full undead adventures at launch, and Blackout, where the universe of Black Ops comes to life in a massive battle royale experience. Blackout features the largest map in Call of Duty history, signature Black Ops combat, and characters, locations and weapons from the Black Ops series.
Features
TACTICAL, GROUNDED MULTIPLAYER - Call of Duty: Black Ops 4 Multiplayer raises the bar, delivering the most thrilling experience yet with a focus on tactical, grounded gameplay and player choice. The game offers a new level of online action across a variety of new weaponry, maps and modes. For the first time, Multiplayer serves as the center of the games narrative as players explore each Specialists role and unique playstyles. With the return of the Pick 10 Create-a-Class system and a new Gear category, gameplay becomes more customizable than ever, giving players choice on how to equip their Specialist. Combined with the ability to unlock devastating Scorestreaks, players will have the opportunity to be powerful on their own or unstoppable as a team.
THE BIGGEST CALL OF DUTY ZOMBIES EVER - Call of Duty: Black Ops 4 delivers the biggest Day 1 Zombies offering ever with three full experiences at launch: IX, Voyage of Despair, and Blood of the Dead. With an exciting new adventure and a brand-new cast of characters, Call of Duty: Black Ops 4s Zombies will feature the deep gameplay and easter eggs that its rabid community of fans have come to expect.
A CELEBRATION OF THE BLACK OPS EXPERIENCE - In Blackout, Black Ops comes to life in a massive battle royale experience that features Black Ops signature combat and land, sea, and air vehicles in the biggest map in Call of Duty history. Bringing together the worlds of Black Ops, play as your favorite characters and battle through iconic settings from the Black Ops universe in an all-out survival and elimination experience.
Operating System: Windows 7 or Higher (64 bit)
HDD: 110 GB available Hard Drive space
Network: Broadband Internet Connection
CPU: Intel Core i3-4340 | AMD FX-6300
GPU: GEFORCE GTX 660 2GB or GEFORCE GTX 1050 | Radeon HD 7950 2 GB
RAM: 8 GB
Playlist
Additional Information
Requires Blizzard Account to Play