Vancouver 2010™: The Official Video Game of the Olympic Winter Games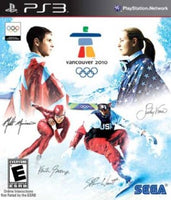 Condition: New / Used
Release Date: January 12, 2010
G-O Number: {{ current_variant.sku }}
Publisher: SEGA
Developer: Eurocom
ESRB Rating
No Descriptors
This is a sports simulation game in which players can compete in events from the 2010 Vancouver Winter Olympics. Players can go for the gold in downhill skiing, speed skating, snowboarding, and ski jumping.
Description
LOTS OF GUTS. LOADS OF GLORY. MAY THE BEST OLYMPIAN WIN!
The worlds best athletes are back to defy the odds with heart-stopping feats of athletic greatness in the Vancouver 2010 Olympic Winter Games. In 14 of the fastest, most spectacular Olympic Games events, up to four players compete to reach the pinnacle of their sport and claim a gold medal for their country. On ultra-realistic courses modeled after Vancouver 2010 Olympic venues, players experience the competitive thrill first-hand with jostling controls, a first-person view helmet-cam and changing weather conditions.
Features
A THRILLING FIRST-PERSON EXPERIENCE - Players feel the speed and adrenaline of the athletes at the Vancouver 2010 Olympic Winter Games first-hand as they hurtle down mountains, fly over jumps and speed around ice rinks.
FOURTEEN PREMIUM EVENTS IN WHICH TO CLAIM GOLD - Every event contains speed and danger, including the giant slalom, snowboard cross, downhill and bobsleigh events.
ALL-NEW CHALLENGE MODES - Never before seen in an official Olympic-themed title, solo players will enjoy several brand new modes, including "Outrun the Avalanche" and "Beat the Blizzard."
WORLDWIDE ONLINE COMPETITION - As records are set the world's best compete to maintain their spot at the top of the leaderboards.
FUN, FAST MULTIPLAYER COMPETITION - Players earn ultimate bragging rights in four-player split-screen action, or in online head-to-head competition.