Tony Hawk's Pro Skater 1 + 2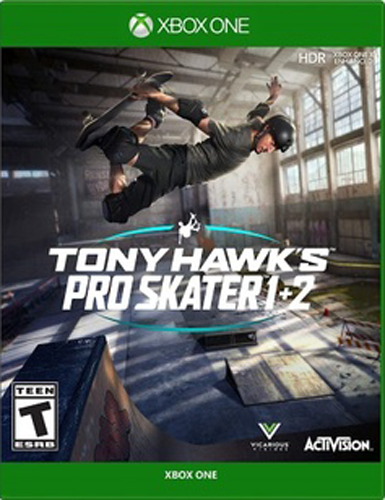 Xbox One
Condition: New / Used
Release Date: September 04, 2020
G-O Number: 0058-XONE
UPC Number: 047875884779
Publisher: Activision
Developer: Vicarious Visions
ESRB Rating
Lyrics
This is a collection of two skateboarding simulation games in which players can compete against others to complete goals/earn points. Players can create custom skate parks, perform tricks, collect hidden items, and skate around a variety of locations. Accompanying song lyrics reference alcohol, suggestive material, drugs, and language (e.g., "I'll bring the beer"; "where the good whores meet"; "I was selling weed to all the kids out of my backpack"; "d*ck"; "b*tch").
Description
Drop back in with the most iconic skateboarding games ever made. Play Tony Hawks Pro Skater & Tony Hawks Pro Skater 2 in one epic collection, rebuilt from the ground up in incredible HD. All the pro skaters, levels and tricks are back and fully-remastered, plus more.
Break skateboarding boundaries, show off your own style, and be part of the next generation of skaters and creators with Tony Hawks Pro Skater 1 + 2.
Features
Skate as the legendary Tony Hawk and the full pro roster
Skate to songs from the era-defining soundtrack
Hit insane trick combos with the iconic handling of the Tony Hawks Pro Skater series
Play all the original game modes and go head-to-head with local 2-Player modes
Show off your style and creativity with upgraded Create-A-Park and Create-A-Skater features
Take your sessions online and compete against players from around the world in Multiplayer modes and leaderboards
Playlist
Additional Information
Internet required for online multiplayer (gaming subscription service sold separately) and other features.
2020 Activision Publishing Inc. ACTIVISION and PRO SKATER are trademarks of Activision Publishing, Inc. Tony Hawk is a registered trademark of Tony Hawk, Inc. All other trademarks and trade names are property of their respective owners.